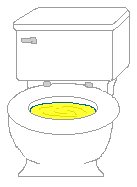 In October 1992, Mark Moroni (Ro) and Andrew Ziola (Z) took a road trip down to the University of Illinois in Champaign. After a tour of the campus and a tour of many of the famous watering holes down in illini-land, Mark and Andrew came up with the random idea to start a punk band. The remainder of the weekend was filled with endless conversation about the first song we'd write, at the time we wanted to make a song called "Boog on Your Shoe." By the way, we never wrote that song.

The funny part about this crazy idea was that neither of us knew the first thing about playing any instrument, oh I did play the saxophone for a month in the fourth grade, and neither of us actually owned a guitar. That wouldn't stop our new found dream.

Returning to beautiful Lisle, IL, and Benet Academy the following Monday morning, Z and Ro continued to talk up this crazy idea with our buddies that hung out by the couches near the Writer's Workbench. The cool kids hung out by cafeteria. We weren't cool, yet.

We made plans to meet after school in Z's parent's garage. Our old buddy, Paul Cherian, had taken up drums a few months prior. Sean O'Brien, Doby, showed up with his old garage sale guitar and ten watt amp, Ro came by with a bass and bass amp that his aunt gave to him, It was from the 1960's or something crazy.

So, Pavil on drums, Roman on the guitar, Z on the bass, and Doby on the 10$ Radio Shack mike. We started to jam. It sounded pitiful, but we made a sad attempt at playing 3 chords while Doby wailed out some actually pretty cool vocals. The first song we played over and over again was Z's lyrics for "Infatuation." It was cheesy as fuck, but kinda punk.

The craziest thing was how awesome Doby was at singing from day one - he was the best part of the band his voice was so unique - we were surprised because he had such a scratchy voice, but singing, he sounded totally different.
The next day we invited Todd to practice. Todd actually knew more than we did about making music and shit - not much. No, we all were pretty clueless about playing instruments, let alone making music, but Todd was the missing link. Urine Nation was complete, and ready to tackle the world, or at least the western suburbs.

Later that first week in the saga, we moved practice to Todd's house. Todd's dad actually had recording studio in their house, so the big-time band that we were, we decided it was time to move into a better practice space. Who were we crapping? We were on cloud nine in the studio. The music was no better. It was louder at least. The studio was cool because we were actually using some decent equipment and not garage sale crap. But we had a lot of practicing to do. We really were trying to teach ourselves how to play these fricking instruments.

The real goal of the band was to make our high-school's (Benet) Battle of the Band contest. Since we started the band in Oct. 1992, we had until around March or April until tryouts and the Battle. But we had our work cut out for us.

We practiced about 3 times a week on average. We moved back to Z's garage, but as dumb as Z's parents are, his parents wouldn't let us practice in their beautiful facility under the name Urine Nation. So we temporarily changed the name of the band to High Men, get it? Like the private part of a woman, and doped up boys . . .

Ohh by the way, we had a list of rotation who would drive Doby home because he never got his driver's license. No one ever wanted to drive him.

After a while we said enough with Z's garage and we moved to the warmth of Roman's garage, Roman's basement, Pavil's garage, and wherever else parents wouldn't bother us with their bitching about the noise - not that we were too loud, but that we sucked.

That's about the best I can do for now as for our beginnings. The rest is music history.

No, we made the Battle of the Bands, and came in second, losing to Craig Helmreichs shitty cover band. We had to use the name Pavil, in honor of the best punk drummer of all time, ohh and because our piece of feces school wouldn't let us use the name Urine Nation. Go figure, the other bands in the contest were 200 Proof (alcohol), Splief (reefer), and Anonymous (a metal band). But they wouldn't let us use the name that they have taught us about in Biology.

We recorded 2 or 3 times on a four tack with Eric Butkis.

We played some shitty shows in the suburbs and parties.

We played one song at a Smoking Popes/Friction show

We played with Cap N' Jazz.

15 has our tape.

We ruled.

Thanks for the memories.

Urination rids the body of unwanted waste. We live in a Urine Nation.

(Andrew Ziola, 1998)