Zbonia
Words
I want my own private bathroom at work. I don't want people walking in the bathroom when I am urinating and defecating. The homeless in India dig a hole at the beach and poo in them like a cat in a litter box. When it rains it pours. When life is slow and boring. Life is slow and boring. When things are busy and crazy. Things are really busy and fucking crazy. I wish I didn't have to get my hair cut so often. I have a lot of neck hair. Neck hair is gross like poop. I am going to be a ballerina for Halloween. I am going to look like a fucking idiot. I like looking like a dumb fool. It is fun. Fun is fun. Get to fucking work. Did you get here after 9AM and take a goddamn 3 hour lunch? I cut my nails pretty short.
Email attachment of the week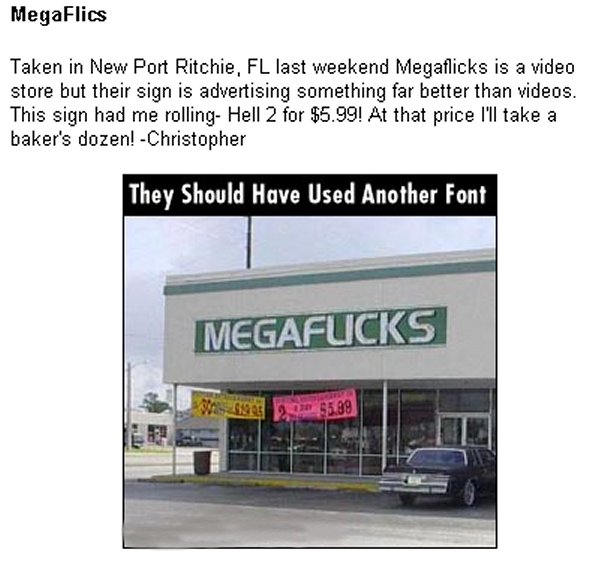 Joke of the week
HER SIDE OF THE STORY

He was in an odd mood when I got to the bar. I thought it might have been my fault because I was a bit late but he didn't say anything much about it. The conversation was quite slow going so I thought we could go off somewhere more intimate so we could talk more privately. We went to this restaurant and he was STILL acting a bit funny. I tried to cheer him up and started to wonder whether it was me or something else. I asked him, and he said no. But I wasn't really sure. So anyway, in the cab on the way back to his house, I said that I loved him and he just put his arm around me. I didn't know what the hell that meant because he didn't say it back or anything. We finally got back to his place and I was wondering if he was going to dump me! So I tried to ask him about it but he just switched on the TV. Reluctantly, I said I was going to go to sleep. Then after about 10 minutes, he joined me and we had sex. But he still seemed distracted, so afterwards I just wanted to leave but I just cried myself to sleep. I don't know. I just don't know what he thinks anymore. I mean, do you think he's met someone else???
HIS SIDE OF THE STORY

My team lost. Felt kinda tired. Got laid though.
Email Train of the week - read bottom to top
Shin

all of my girlfriends would pay to see that. That will add a few more.
Andrew P Ziola

i think we can get at least 8 or 9 people to go
Shin

I bet a whole lot more people would love to come see that.
"Mark Moroni"

tonites paid attendance: 6
amy
tree
chando
andrea
lana
melissa
jshin@focal.com

Sounds like an event that will totally sell out!!
"Mark Moroni"

team mullet, live at the symphony orchestra
conducted by shit.
jshin@focal.com

It will be like those people that play the bells.

"Mark Moroni"

the higher tone it makes the less junk ya got.

the lower tone means ya got more junk.

jshin@focal.com

then we'll line you guys up and you can knock on them to see if they make different sounds.

"Mark Moroni"

sounds like balls.

like i need to buy a cup for my peanuts and cacahuetas.

jshin@focal.com

penis (typonglish) in spanish is cacahuetas.

Andrew P Ziola

no i think as time rolls on, i will learn to live with it.

Shin

we can change it if you want to.

Andrew P Ziola

for some whack reason - the word peanuts is bothering me

and i usually dig this shin

Shin

I thought before his name was changed to Pee, that his peanuts was little z.

Z, why is this disturbing you?

Andrew P Ziola

no, its name is Ted

"Mark Moroni"

PEE - is your peanuts named pee?

jshin@focal.com

Can we get another no shin sherlock on this one too?

Pee is always looking at porn, playing with his peanuts named pee.

"Mark Moroni"

PEE and always looking at porn and playing with pee.

jshin@focal.com

pee is always looking at porn.

Andrew P Ziola

moron went to the store. he saw shit there. pee was at home looking at porn.

Shin

moron, shit and pee (not Z).

"Mark Moroni"

yo - i'm moron.
jshin@focal.com

Hi, I'm shit.

Andrew P Ziola

Hi. I am Z.

"Mark Moroni"

i guess i'll just have to leave my 'reply all' to you & z huh?

bummer.

jshin@focal.com

permission not granted.

"Mark Moroni"

you can trust us...

i'm just asking for permission.

jshin@focal.com

Man, I thought I could trust you all and not have to do a separate e-mail for you guys.
"Mark Moroni"

can we please do a reply all to this?

jshin@focal.com

Hi everyone,

I moved into my new place this weekend and I have a new phone number too