Hello. Dr. Odd here. I went through a lot of people on my Q and A and I thought it was a good idea to start over with some new questions. You will see all the same people as before, just some fresh questions. Andrew Ziola
---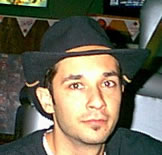 We would like to introduce Z.
--Work--
How do you plan to spend the next 13 years?
I want to make websites either for my own or manage a group of developers.
What is your job title?
Web Producer
What do you do exactly in your job?
I design and produce content and commerce websites. I make graphics, html, some flash and some other code. My full time job, we make websites so people will buy credit cards and cable services.
What type of work do you do?
Web design, Ecommerce and web development.
What kind of company do you work for?
Small online customer aquisition company in northern suburb of Chicago.

--Material--
What is your favorite color?
I love them all but I would say either blue or green.
What was your first car?
83 Buick LeSabre
What kind of car do you have?
I do not have my own car but my wife has a Volkswagon Jetta that I use sometimes.
If I had all the time and money, I would love to ...
Get Cubs season tickets and go to all their games.
Ugliness aside, if you could have your bedroom painted - what color would you choose?
Orange or dark red. Ideally I would love all the walls to be stained glass.
What crazy thing would you 1st buy if you got rich?
I think I would want stuff like a house, car, laptop, and those Cubs season tickets I already mentioned.
--Play--
What do you like to do on the weekends or in your spare time?
Make webpages, art projects, Cubs and Bears games, punk shows.
What is your sleep schedule?
On weekdays I get to bed at 11 or 12 and am up around 6:30 or 7, on weekends I stay up a little later and get up around 8, sometimes 9.
Which is your favorite season?
Summer, by far. I love love the Summer. I don't like other seasons. I love it stinking hot.
If you could name yourself, what name would you choose?
I guess it would have to be Z. My name is Andrew but I would say that 80%+ people call me Z. I don't like boys names, I think most of them suck.
What is the last movie that you have seen that you enjoyed?
Jackass 2
What book are you reading now or have read recently?
Harry Caray book
What is your favorite board game or card game?
That is tough. I guess if I had to pick one I would say the Game of Life. I used to like that when I was a kid.
What is your favorite magazine?
AP (Alternative Press)
What is your all time favorite TV show?
Boston Public or 90210
Do you prefer the toilet paper to flow over or under the roll?
Over, most definitely.
What is your favorite sport to watch?
I truly love baseball. I watch pretty much 162 Cubs games ever year.
What is your favorite sport to play or favorite exercise?
Softball.
Favorite Teams...
MLB: Cubs
NFL: Bears
Hockey: Blackhawks
Basketball: Bulls
College football: NIU Huskies
College Basketball: Marquette
High School football: Riverside Brookfield
What is your your favorite outdoor activity?
Sitting in the bleachers at Wrigley Field.
What is your your favorite indoor activity?
Making web pages
--Food--
What is order at Starbucks?
Venti coffee with half hot water
What is your favorite food?
Beef
What do your order on your pizza?
Pepperoni or spinach.
What is your favorite flavor ice cream?
Any. But i I had to pick one I would say Rocky Road.
What is your favorite soda pop?
Squirt
What is your favorite sweet treat?
Any, but I would say Reeses Peanut Butter Cups
What is your favorite snack?
Sunflower seeds
--Demographics--
How tall are you?
6' 3"
Are you single?
No
Are you allergic to anything?
Recently I have become allergic really bad to weeds and trees
How would you describe your appearance?
Lanky
What nationality are you?
Bohemian, German, and Polish.
Where do you live?
North side of Chicago near the Cubs.
In less than five words, describe yourself.
Weird tall lanky creative dude
In what type of dwelling do you live?
Townhouse
What is under your bed?
I think I have long underwear and some old papers.
What is the color of your hair?
Brown
What color eyes do you have?
Brown
Do you have contacts, glasses, or lasik?
Contacts, since 3rd grade
Name all the cities or towns you have lived in
Westmont, IL, Milwaukee, and Chicago
Are you political?
Not at all. I have no interest in politics. I do vote though because I find it really important.
Name 3 things you like
I like sports and punk music and webpages
What is your Zodiac sign?
Cancer
Do you drink?
Sometimes
Do you smoke?
No
Is religion a part of your life?
Yes it is. It is important to me and I strive to make it a larger priority.
What is the highest education level you have completed?
I have a Bachelor's Degree in Business Administration.