Hello. Dr. Odd here. This is my Q and A. I carry a hankerchief. Some people think it is gross that I will blow my nose in it and then put it back in my pocket. You can drop me a line here. Andrew Ziola
---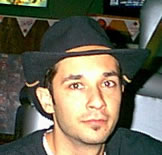 Born: 6/25/1975
What is the 1st thing you want to do when you get home from work or when you wake up on the weekends?
Pet Schmoopie the cat and urinate
Who would you like to pattern yourself after?
Not for like accomplishments - more just I would like to be this person - my grandmother. 'Cause she is most unselfish person i have ever met. On a different level I would love to do something like Theo Epstein, the General Manager of the Red Sox.
What is your favorite vacation spot?
Drinkin' wine coolers on the beach. Lets say Mexico. Basically any place where I don't have to wear a shirt.
If you could get paid the same amount of $ as your current job and do anything, what would it be?
First base coach for the Cubs.
If you found $200 in the trash and you had to spend it that day, what would you do with it?
As of this minute, I think I would go buy a coat. But like in the past - when I won gambling money or something I throw party so people can have booze for free.
What kind of music you like the most and why?
Pop punk. anything that sounds like Good Charlotte.
What's your favorite sports team?
Cubs
Who have you been most influenced by and why?
I would say me - but also people like moroni have made me stick with shit i like and made me happy about being myself.
What makes you cry?
Boston Public and the thought of my cat suffering.
What is your favorite town or state in the united states?
Chicago or Westmont. OK I don't like Westmont. I lied. Sorry.
What do you usually eat for dinner?
Frozen Pizza and sandwiches.
What is your favorite website?
drodd and yahoo mail
If you had to hear 1 album for the rest of your life what would it be?
Green Day 1039
What do you do for $?
Make W pages
What do you that you find attractive in the opposite sex?
Voice
What do you like better? Dogs or cats?
My cat. i have lived with a cat for all but like 2 years of my life.
What is the one thing people say about you the most?
Weird
What would you put on your Rider List?
(List that rock stars make and venues have to get all this stuff for them that they can enjoy before a show)
Cans of Budweiser, Cold Water not in bottles, squirt, weak coffee, hot and cold, diet coke and diet pepsi, spicy shrimp maki from Toyko lunch box, shrimp cocktail, beef brisket from Rudy's in Austin TX, crab legs pre-cracked with 1 cup of melted butter, Portillos italian beef, chicago pizza fried calzone, hong kong jerry filet from Red Light restaurant, Reeses Peanut Butter cups, red vines licorice, black licorice, Peanut butter Cold Stone Creamery ice cream
What is your favorite restaurant?
What do you watch on TV? Name some shows you like.
Teen dramas, sports, seinfeld, and MTV shows like cribs, behind the music
You got any Tattoos?
8
Do you use styling products in your hair?
Base of gel and light spritz of hair spray topped with hand fondling
What is your salad dressing of choice?
Blue cheese or blue cheese
What is your favorite fast food place? What do you order there?
Portillos. big beef with hot peppers.

LAST MOVIE YOU SAW IN A THEATER?
jackass

WHAT BOOK ARE YOU READING NOW?
i haven't read a book in like 7 years

FAVORITE BOARD GAME:
game of Life

FAVORITE MAGAZINE:
Stuff

FAVORITE SMELLS:
this cherry candle that my wife's parents had

COMFORT FOOD:
fried chicken

FAVORITE SOUNDS:
pop punk

WORST FEELING IN THE WORLD:
getting laid off

WHAT IS THE FIRST THING YOU THINK OF WHEN YOU WAKE UP IN THE MORNING?
recently is has been a girl

FUTURE CHILD'S NAME:
rock or justice

FINISH THIS STATEMENT, "IF I HAD A LOT OF MONEY...
i would give most of it away

DO YOU DRIVE FAST?
i prefer to call it reckless

DO YOU SLEEP WITH A STUFFED ANIMAL?
no but i do like spooning pillows or someone if they are in my bed - boy or girl
STORMS-COOL OR SCARY?
fun and exciting

WHAT WAS YOUR FIRST CAR?
83 busic lesabre, brown - like poo

FAVORITE ALCOHOLIC DRINK:
budweiser

FINISH THIS STATEMENT, "IF I HAD ALL THE TIME, I WOULD LOVE TO":
raise penguins

DO YOU EAT THE STEMS OF BROCCOLI?
not a huge fan of the stems but i do eat them
IF YOU COULD DYE YOUR HAIR ANY COLOR, WHAT WOULD YOU DYE IT?
dont think i would, maybe like we did it back in the day like purple streaks and frosted tips and shit - now i think i would look pretty dumb with it like that

GLASS-HALF EMPTY OR FULL?
50% left
HOW MANY DIFFERENT CITIES/TOWNS HAVE YOU LIVED IN?
3

FAVORITE PLACE TO RELAX:
couch
FAVORITE SPORT TO WATCH:
baseball

WHAT IS UNDER YOUR BED?
shit load of crap from memories in life like yearbooks, pics, old porn mags

TOILET PAPER/PAPER TOWEL-OVER OR UNDER?
over

HOW MANY CLOCKS IN YOUR HOUSE?
6

Favorite Teams...
MLB: Cubs
NFL: Bears
Hockey: Blackhawks
Basketball: Bulls
College football: Northern Illinois
College Basketball: Marquette
High School football: Riverside-Brookfield, IL

---
Another Q and A:
Name: Andrew Ziola
Location: Chicago, IL
Web Guy.
Aversion: people in my way.
I am single.
I am not super religious.
I'm not political, but not affiliated with a party I don't really thing but I have voted for a Democrat in the past couple of presidential elections.
I like women.
I like sports and punk music.
My birthday is June 25, 1975.

What is your sex?
Male
What is your sexual orientation?
Heterosexual
How old are you?
as of 11/12/03 I am 28 years old.
What is your weight?
175
What is your height?
6' 3"
What is your sign?
Cancer
What is the color of your hair?
Brown hair
What is the style of your hair?
Short straight hair
What color eyes do you have?
Brown like poo
Do you have eyewear?
Contacts
Your current living situation is?
Living by myself with my cat Schmoopie
Where do you live?
Lincoln Park in Chicago
In what type of dwelling do you live?
Condo
What type of transportation do you use?
Public - trains and busses
What is your annual income?
Between 0 and 1,000,000
What type of work do you do?
Make web pages
Of this list, what is your favorite OUTDOOR activity?
Softball
Of this list, what is your favorite INDOOR activity?
Seeing punk shows
Do you drink?
I drink socially
Do you smoke?
I do not smoke
How would you describe your appearance?
On weekdays I like like a Corporate American and on the weekends I dress like an 18 year old.
You might be best described as:
Odd
Is religion a part of your life?
Sure. Not huge though.
Where would you prefer to live?
Where I live in the city.
Current education level:
I have an undergraduate degree from the college.
Are you happy with the fame and fortune in your life?
I wouldn't mind being famous I think it would be fun.
Pick a Great Escape:
Reading something on the toilet.
Which is your favorite season?
Summer. Or any time or place where it is warm enough to not wear a shirt.