Hello. Dr. Odd here. I met Tricia a couple of years ago at our bowling league. She also met a great buddy Nate at that league and now they are engaged. She is one of the nicest ladies I know. I have yet to hear her say something mean. You can drop her a line here. Tricia Van Horn
---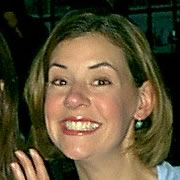 Born: I was born in Oak Lawn, IL on December 15th, 1975. The SSSSSSSSouth side!
What is the 1st thing you want to do when you get home from work or when you wake up on the weekends?
The first thing I do on the weekdays is check my mail. I am obsessed with getting my snail mail. The first thing I do on the weekends is roll over and yell at Nathan for snoring all night.
Who would you like to pattern yourself after?
I would most like to follow in the footsteps of my amazing older sister, Dana, because she really has it together in every way!
What is your favorite vacation spot?
Wherever I go on my honeymoon. We haven't decided yet.
If you could get paid the same amount of $ as your current job and do anything, what would it be?
I would love to be able to relax on a beach all day. Could that be a job?
If you found $200 in the trash and you had to spend it that day, what would you do with it?
I would spend the $200 on a gift for Nathan, of course!
What kind of music you like the most and why?
Any music at all that Nathan makes me listen to. My favorite radio station is the Oldies 104.3 - the old classics relax me.
Who have you been most influenced by and why?
I have been most influenced by my sister. She is a great role model for me!
What makes you cry?
Sad movies make me cry. Also, sentimental things.
What is your favorite town or state in the united states?
My current favorite city in the US is Seattle. It's a really cool place to visit.
What do you usually eat for dinner?
I eat a variety of food for dinner. I eat out approximately 3 nights a week. The other nights I just make something simple.
What is your favorite website?
drodd.com and iamnate.com
If you had to hear 1 album for the rest of your life what would it be?
anything from Jeff Buckley because his voice and lyrics are so beautiful.
What do you do for $?
I work in marketing & sales for a residential property management company.
What do you find attractive in the opposite sex?
Eyes and sense of humor.
Dogs or cats?
Dogs and Cats are nice
What is the one thing people say about you the most?
People tell me the most that I am TALL.
What do you watch on TV?
Sex and City, Malcolm in the Middle, I am a Real World Junkie, NYPD Blue
You got any Tattoos?
No tattoos
Do you use styling products in your hair?
I use this pomeade stuff and styling spray because my hair can get really big.
What is your salad dressing of choice?
I like Italian!
What is your favorite fast food place? What do you order there?
My favorite fast food is Buona Beef! I order the beef sandwich.
What is your favorite booze beverage?
My favorite booze is vodka/tonic.
What do you think people say are some of your virtuous qualities?
I'm not sure what my virtuous qualities are- you would have to ask my fiancé or my mom or something
What do you think people say are some of your vices?
I am evil! I am tall!?
---
next q&a - Big Dave