Hello. Dr. Odd here. Hello. This issue's Q&A is with Jaimii Shin. I met Jaimii at my job at Focal. Even though I sat by her forever, we didn't really talk but then we started hanging out I can't remember when - maybe after our softball games. Any way, she has become a really great friend. One time she bought me, roman, and nate Hurley shirts and one time she drove us to the Blink 182 concert so we could drink. It is fun hanging out with Jaimii and I am glad she is my friend. You can drop her a line here.
---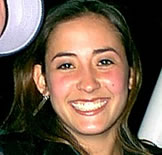 Born: 8/4/1976
who would you like to pattern yourself after?
noone
what is your favorite vacation spot?
anywhere with a beach and lots of sun.
what is the 1st thing you want to do when you get home from work or when you wake up on the weekends?
when I get home I want to go running. On the weekends I want to eat.
What is 1 weird thing that you find attractive in the opposite sex?
I can't think of anything that is weird that I find attractive.... I think I'm typical.
What do you do for $?
I work in a cube... please don't ask me to elaborate, it's too painful.
if you could get paid the same amount that you get paid at your current job and you could do whatever you want? what would you do?
watch movies or sleep
if you found $200 on the ground and you had to spend it that day, what would you buy or do?
Go to a bar and buy food and drinks for myself and my friends
what kind of music you like the most and why?
I like all different kinds of music. Different styles do different things for me.
Who have you been most influenced by and why?
My sister. She's been there forever and I've always looked up to her.
What makes you cry?
People letting me down, and Boston Public.
What do you usually eat for dinner?
Anything that delivers.
What is your favorite website?
There are a couple that I like equally.... www.accuweather.com, www.justatip.com and www.drodd.com
if you had to hear 1 album for the rest of your life what would it be?
Johnny Cash's Fosum Prison.

next q&a - chando