Hello. Dr. Odd here. This is the the next interview or Q&As that I did with people that are in my life. I met Matt Batt when I started working at Focal like 3 and a half years ago. We had a lot of fun at Focal and we remained friends when he left to pursue other things. He is a real nice dude. He is married to Ali, a really nice lady. I am glad I met him at the Focal. He is a great friend.Y ou can drop him a line here. Matt Batt
---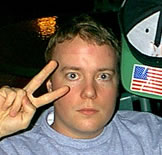 Born: 11/8/1976
What is the 1st thing you want to do when you get home from work or when
you wake up on the weekends?

i want to get home from work (currently unemployed)! when i wake up on the weekends i want to brush my teeth first. for some reason, the poo-breath is at its worst on the weekends.
who would you like to pattern yourself after?
pattern?! i think of my mom when you say pattern, so i'd say my mom. she had some sweet patterns. you know she used to make my clothes (out of patterns) when i was little and stitch my name on the front! embarrasing as hell, but made from a pattern none the less. seriously, my mom was the best and i'd like her pattern.
what is your favorite vacation spot?
hawaii. many beautiful people (including mrs. batt) and so much to do outside. also, its about the only place you can drink fruity drinks all day long and not feel gay.
if you could get paid the same amount of $ as your current job and do anything, what would it be?
[see part a - question 1] i'm in no frame of mind to be thinking of the perfect job.
if you found $200 in the trash and you had to spend it that day, what would you do with it?
$6.25 - Perry's Favorite (extra slaw), $100 - scalped bleacher seat for cubs game and three friends (september prices), $30 - ice cold budweisers, $3.00 - bag of peanuts, & $60.75 - bet on bears making it to the playoffs in 2003.

what kind of music you like the most and why?
i'll be honest, i'm not a big music fan. let me share a few matt batt music milestones with you: lou reed - first cassette tape, vanilla ice - first cd, 26 - total number of cd's in collection, james taylor - first concert, manhattan transfer - second concert, the temptations - third concert, pearl jam (chicago stadium) - best concert, pearl jam - favorite band, this little gospel light of mine - best church song.
who have you been most influenced by and why?
my mom. she really made a difference in peoples lives. i'd like to think i do the same.
What makes you cry?
cry?! there's no crying in baseball!
what is your favorite town or state in the united states?
lac du flambeau, wisconsin. not because of the indians. i just don't think of anything while i'm there. in chippewa, lac du flambeau means relaxation (or lake of the flames).
What do you usually eat for dinner?
pasta and vegetables. my beautiful wife usually cooks and she likes that stuff. we do bad sometimes and just order pizza.
What is your favorite website?
www.bringstoneyback.com and www.wrigleyexpansion.com

besides, i've promoted them on the score since day one! (thanks D&D and julie!).
if you had to hear 1 album for the rest of your life what would it be?
pearl jam - 10 (with lou reed being a close second)
what do you do for $?
now? anything!
what do you that you find attractive in the opposite sex?

the neck and eyes. i like to look them in the neck and lick there eyes.

next q&a - Joe Hube