Hello. Dr. Odd here. I went through a lot of people on my Q and A and I thought it was a good idea to start over with some new questions. You will see all the same people as before, just some fresh questions. Merilou Ziola
---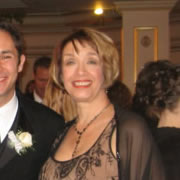 We would like to introduce My Mom.
--Work--
Spend next 13 years
Hopefully stay at my present part time job—however, I doubt if I will be there for 13 more years since that would bring me up to my mid 70's.
Job Title
Really no formal title – just administrative .
Do in my job
Finalize commercial real estate appraisals, either in form format, or in narrative format (usually between 50 – 100 pages) . I must make the appraiser's corrections of these appraisals on the computer, then make the hard copies for the clients (sometimes 4 or 5 copies); send them to the clients, and then put the entire appraisal in PDF format and either e-mail the appraisal, or, if too large, post the appraisal on the client's website. This, along with taking care of 3 printers, 3 copy machines, computer problems and fixing the computer problems of 4 appraisers. In my spare time, answer the phone which rings about every 10 seconds.
Kind of company
Commercial real estate appraisal company.
--Material--
Favorite color
Green
First car
1968 Green 4 door Plymouth Fury—it was a huge boat of a car—cost $3,000.
Car I have now
Silver Toyota Highlander SUV
All time and money, love to
Probably do the same thing I am doing now. I am thankful I am healthy, can get up in the morning and go to a job.
Bedroom painted what color
Sagey, dusty green
What crazy thing I would buy if I got rich
A new fabulous townhouse with a master bedroom and master bath on the first floor – must be in DuPage County however.
--Play--
Do on weekends or spare time
Sleep later, go to the gym, go to movies, go out to eat.
Sleep Schedule
10:15 PM to 6:15 AM (Usually awake several times during the night, however.)
Favorite season
Definitely the fall.
Name myself
Kara
Favorite Game
Trivial Pursuit – although I am not real good at it.
Favorite magazine
Prevention; Health
All time favorite TV show
Past: Dallas Present: ER
Toilet paper
Under the roll (This is also how my mother always did it)
Favorite sport to watch
Probably baseball because it is easiest to understand; I still can't understand football.
--Food--
Starbucks
On a cold winter day, I like a hot chocolate made with skim milk (but with whipped cream). Their coffee is too strong for me.
Pizza
All veggies—spinach, mushrooms, onion, green pepper, sometimes broccoli.
Ice Cream flavor
coffee
Soda Pop
Ginger ale
Sweet treat
Any dessert, preferably cake. I have a bad sweet tooth.
Favorite snack
I like to pop popcorn in a brown bag with no oil; however, then I like to pour " I can't believe it's not butter" liquid margarine over it and then sprinkle with parmesan cheese.
--Demographics--
Height
5' 11"
Married or Single?
Married.
Allergic
To dogs, but not cats. I break out in hives if a dog licks my arm—I must be allergic to the saliva.
Appearance
People say I stand nice and tall and have nice posture. I don't think about standing tall, but I guess I do. I have never slouched—that makes you look awful. In my younger days, I was considered very tall; now I see girls my height or taller than I. I really do like my height—some people ask me if they could "borrow" some inches from me as they want to be taller.
Nationality
German and Bohemian
Live
Westmont, Illinois
Describe myself
Friendly, Approachable, Organized, Good listener, Good worker
Live in what dwelling
A split-level single family home.
Under my bed
My wedding gown and veil in a big flat plastic box.
Color of hair
Brown (now with some blonde highlights).
Color eyes
Greenish
Contacts or Glasses?
Have Gas permeable, rigid contact lenses (been wearing them since I was 13 years old)
Cities and towns lived in
Berwyn , Illinois ; Brookfield , Illinois ; Westmont , Illinois
Political
Not really – I vote for the candidate, not the party.
3 things I like
good food, a good haircut, a clean house
Zodiac sign
Libra (I do think this sign suits me—I like things in balance)
Drink
Occasionally a glass of wine.
Smoke
no, no never!!!
Religion a part of my life
Definitely – We are truly just passing through this life and will have complete happiness in the next.
Education
High school, some college courses