Hello. Dr. Odd here. I went through a lot of people on my Q and A and I thought it was a good idea to start over with some new questions. You will see all the same people as before, just some fresh questions. Merilou Ziola
---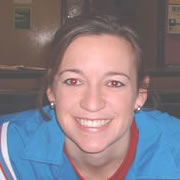 We would like to introduce Mel.
--Work--
How do you plan to spend the next 13 years?
Working as an event Planner and raising my (2) children, Jake and Charger
What is your job title?
Events Manager
What do you do exactly in your job?
Plan and coordinate all company events, meetings, trade shows, seminars, etc...
What type of work do you do?
Event Planning
What kind of company do you work for?
Alternative Power Source
--Material--
What is your favorite color?
Red
What was your first car?
Mitsubishi Eclipse
What kind of car do you have?
Jeep Grand Cherokee
If I had all the time and money, I would love to ...
Quite my job and be a stay at home mom
Ugliness aside, if you could have your bedroom painted - what color would you choose?
Red
What crazy thing would you 1st buy if you got rich?
A new car and house - although that isn't too crazy
--Play--
What do you like to do on the weekends or in your spare time?
Spend time with my son and dog
What is your sleep schedule?
Well that all depends on my son. Typically it is 11pm - 6:30am
Which is your favorite season?
Summer
If you could name yourself, what name would you choose?
I like my name so I don't think I would change it
What is the last movie that you have seen that you enjoyed?
Music & Lyrics
What book are you reading now or have read recently?
Some sappy Sandra Brown Novel
What is your favorite board game or card game?
The Game of Life
What is your favorite magazine?
I don't read magazines
What is your all time favorite TV show?
Everybody Loves Raymond
Do you prefer the toilet paper to flow over or under the roll?
Over definitely
What is your favorite sport to watch?
Football
What is your favorite sport to play or favorite exercise?
Bowling : )
Favorite Teams...
MLB: Chicago White Sox
NFL: Chicago Bears
Hockey: I don't watch hockey but if I had to choose it would be the Blackhawks
Basketball: Bulls
College football: University of Iowa
College Basketball: Iowa
High School football: Glenbard West Hilltoppers
What is your your favorite outdoor activity?
Boating - however I probably get to do that once a year. I also enjoy going for walks with my son and dog
What is your your favorite indoor activity?
Sitting around with friends and drinking wine
--Food--
What is order at Starbucks?
Tall No fat Mocha with whip
What is your favorite food? I have (2) favorite things:
Cheese/Crackers & Chips/Guacamole
What do your order on your pizza?
Sausage - well done
What is your favorite flavor ice cream?
Mint Chocolate Chip
What is your favorite soda pop?
Coke
What is your favorite sweet treat?
Anything - I love sweets
What is your favorite snack?
Cheese & Crackers
--Demographics--
How tall are you?
5' 6"
Are you allergic to anything?
Animals & Nature
What is your favorite color?
Red
How would you describe your appearance?
Brown hair, brown eyes, average build
What nationality are you?
Polish/Russian/Irish/English/Scottish & American Indian
Where do you live?
Chicago
In less than five words, describe yourself.
Fun, Organized, Thoughtful, Caring & Planner
In what type of dwelling do you live?
Condo
What is under your bed?
Bunch of stuff
What is the color of your hair?
Brown
What color eyes do you have?
Brown
Do you have contacts, glasses, or lasik?
Contacts
Name all the cities or towns you have lived in.
Chicago, IL
Glen Ellyn, IL
Glendale Heights, IL
Iowa City, IA
No
Name 3 things you like
My Family, My Friends & White Wine
What is your Zodiac sign?
Capricorn
Do you drink?
Yes
Do you smoke?
No
Is religion a part of your life?
I hate to admit it but No
What is the highest education level you have completed?
BA, University of Iowa