Hello. Dr. Odd here. I went through a lot of people on my Q and A and I thought it was a good idea to start over with some new questions. You will see all the same people as before, just some fresh questions. Merilou Ziola
---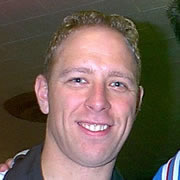 We would like to introduce John.
--Work--
How do you plan to spend the next 13 years?
I'm looking forward to being a good husband, raising my two girls (Molly is scheduled to arrive October 23, 2007) and being able to clothe, feed and provide a stable home for us all to live in...
What is your job title?
Employee Benefits Consultant
What do you do exactly in your job?
Consult to various unions/trades on the healthcare benefits and financial performance of Trust Fund covering all employees and their dependents both present and into the future.
What type of work do you do?
I'm part consultant, actuary, CPA and auditor rolled into one. We present to Boards of Trustees on a quarterly basis on a wide range of topics (plan design, eligibility, medical, dental, vision, prescription drugs, short and long-term disability, etc…).
What kind of company do you work for?
Small private
--Material--
What is your favorite color?
Royal blue
What was your first car?
1997 Honda Accord Coupe
What kind of car do you have?
Ford Fusion
If I had all the time and money, I would love to ...
Be a stay at home Dad with time to play golf, ski, play cards and vacation as much as possible.
Ugliness aside, if you could have your bedroom painted - what color would you choose?
Sky blue
What crazy thing would you 1st buy if you got rich?
A membership to Augusta National.
--Play--
What do you like to do on the weekends or in your spare time?
Spend time with my wife and daughter, play golf and play cards.
What is your sleep schedule?
10pm- 5:30am on weekdays, 11pm until Emily wakes us up on weekends.
Which is your favorite season?
Summer, the hotter the better.
If you could name yourself, what name would you choose?
I've gotten used to John so I would stick with it.
What is the last movie that you have seen that you enjoyed?
The Departed was decent. With a toddler in my life movies aren't high on the priority list of things to do and I don't consider The Little Mermaid or Madagascar as those that I'd say I 'enjoyed'…
What book are you reading now or have read recently?
I am reading the 7th Harry Potter book, so cliché!
What is your favorite board game or card game?
No Limit Texas Hold'em Poker.
What is your favorite magazine?
Golf Digest
What is your all time favorite TV show?
Either MASH or Happy Days (they both bring back good memories from youth).
Do you prefer the toilet paper to flow over or under the roll?
Over, my wife converted me.
What is your favorite sport to watch?
Golf
What is your favorite sport to play or favorite exercise?
Golf, no exercise here other than running after Emily!
Favorite Teams...
MLB: Cubs
NFL: Bears
Hockey: Blackhawks
Basketball: Bulls but the NBA bores me
College football: Anyone who plays Florida
College Basketball: Duke
High School football: Oak Park River Forest Huskies
What is your your favorite outdoor activity?
Golf
What is your your favorite indoor activity?
Playing and reading with/to Emily.
--Food--
What is your order at Starbucks?
Never had a cup coffee in my life, what's all the fuss about?
What is your favorite food?
A steak grilled to perfection with sautéed mushrooms and onions.
What do your order on your pizza?
Sausage and Pepperoni
What is your favorite flavor ice cream?
Chocolate Chip Cookie Dough
What is your favorite soda pop?
Original Coke, down to one a day (from six or seven)!!
What is your favorite sweet treat?
Reece's Peanut Butter Cups
What is your favorite snack?
Jay's Hot Stuff Potato Chips
--Demographics--
How tall are you?
6'1"
Are you single?
Married
Are you allergic to anything?
I don't think so, used to be allergic to bee stings when I was a kid. Haven't been stung in a long time so the jury is still out…
How would you describe your appearance?
Short blonde hair that is reseeding a bit, blue eyes with the normal middle aged gut that seems to increase a bit each year.
What nationality are you?
I'm a mutt, 50% German, some Swiss, English, Dutch and Swedish thrown in for good measure.
Where do you live?
Naperville, IL
In less than five words, describe yourself.
Caring, kind, trustworthy, quiet and genuine
In what type of dwelling do you live?
Split level house
What is under your bed?
The leaf to our dining room table and the case to my CPAP machine.
What is the color of your hair?
Blonde.
What color eyes do you have?
Blue, they change from light to dark depending on what I'm wearing.
Do you have contacts, glasses, or lasik?
Contacts
Name all the cities or towns you have lived in.
River Forest, IL
Carbondale, IL
Wauwatosa, WI
Murphysboro, IL
Chicago, IL
Naperville, IL
Are you political?
Nope, all politicians are crooks in one way or another or they wouldn't get ahead in that game. Our government is an absolute joke and the majority of the citizens in this country walk around like sheep!!
Name 3 things you like
Jen (wife), Emily (daughter) and a really good red wine
What is your Zodiac sign?
Aquarius
Do you drink?
Yes
Do you smoke?
No!!
Is religion a part of your life?
Not so much but I go to church when it's below 60 degrees and when it is raining because it makes my wife happy. I also attend during the applicable holidays because it is supposedly the right thing to do.
What is the highest education level you have completed?
Bachelor's degree