Hello. Dr. Odd here. I met Dave back at college. He is actually a friend from home from one of my old college roommates. He is a really friendly and fun guy. He lives in Wisconsin but we hang out a couple times a year. You can drop him a line here. Dave Orr
---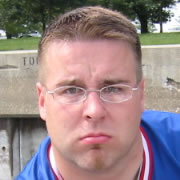 When were you born? Where?
In August of 1974, my parents were very passionate after drinking all night at a Gasthaus in Germany. After four or five minutes of passion, I was made. Technically I was made in Germany, but born in Newport News, VA on April 8, 1975.
What is the 1st thing you want to do when you get home from work or when you wake up on the weekends?
Drink, eat, smoke, and fuck, but not in any particular order!
Who would you like to pattern yourself after?
My father. No high school diploma or additional education, but by far the smartest person I know. He is also a very caring and compassionate man.
What is your favorite vacation spot?
I generally like the UP cause I get to goof off all weekend with people that have the same mentality as myself. It is an annual event that I always look forward to.
If you could get paid the same amount of $ at your current job and do anything, what would it be?
Teach and coach football, however I would prefer more $$$!
If you found $200 in the trash and you had to spend it that day, what would you do with it?
Buy a half barrel at my favorite local tavern (Mable Murphy's), and invite everyone I know for fun-filled activities in O-town. The rest I would spend on porn & love toys for Cori and I.
What kind of music you like the most and why?
My three favorite kinds of music is Punk, punk, and pUNK! No matter how I feel, whether good or bad, punk keeps me energized and entertained.
Who have you been most influenced by and why?
Again, my father has been the biggest influence in my life. He has given me food, clothes, shelter, and helped mold me into who I am today. Most importantly he gave me life.
What makes you cry?
Leftovers. Nothing ever tastes better the second time around. That and pre-ejaculation... it's embarrassing.
What is your favorite town or state in the United States?
Port Washington, Wisconsin is where I spent most of my childhood. That is by far my most favorite town and state. Wait, I want to change my answer. Port Washington is my favorite town, but I really like Pennsylvania because that is where the Steelers are from.
What do you usually eat for dinner?
Besides Big Dave Orr burgers, I prefer Italian cuisine. Unfortunately, I only know how to make omelets and food from a box. My answer is Hamburger Helper.
What is your favorite website?
Besides drodd.com, nice plug, I would have to say cbssportsline.com. Keeps me up to date on all my favorite teams from Pittsburgh, PA. Go Steelers, Penguins, Pirates, and Panthers!!!
If you had to hear 1 album for the rest of your life what would it be?
(Tie) Jane's Addiction- Nothing's Shocking & Alk3- Godammit. I know that is two albums, but this is my Q & A session and I cannot choose, so piss off!
What do you do for $?
I'm a stinky salesman! But I am looking forward to being unemployed real soon. Please God let me lose my job.
What do you find attractive in the opposite sex?
I am very attracted to nice legs, a perfect ass, nice perky boobs, and a beautiful face. I have that, in addition to a winning personality, and a wonderful sense of humor with my girlfriend Cori Ullman.
Dogs or cats?
Both. I love all animals. I have three cats now, but will own a dog (preferably a Boxer) in the near future.
What is the one thing people say about you the most?
Not quite sure. I'm hoping they will mention the fact that I care for each and everyone of my friends and family members, and would do anything for anyone of them. That or they could mention my girth!
What do you watch on TV?
Sports (mostly Football and Hockey), the Simpson's, and Fear Factor are shows I watch repetitively. Cheesy horror flicks and comedies are what I prefer to rent or own on DVD.
You got any Tattoos?
None as of yet, but I want three. No eagles, flags, or names of people I love, but something that represents me as a person. Perhaps a basket of buffalo wings and a pitcher of Bud Light would be an accurate tattoo.
Do you use styling products in your hair?
Herbal Essence cause it is supposedly herbal. No orgasms, like the commercial. I hate false advertising!
What is your salad dressing of choice?
Ranch is good, Peppercorn Ranch is better.
What is your favorite fast food place? What do you order there?
Cousins Subs. Club sub, no tomato, on parmesan asiago bread, with an iced tea, and a side salad with peppercorn ranch. That just screams, "What are you GAY?"
What is your favorite booze beverage?
Crown Royal & 7up with two limes. The more limes, the more sophistication you have. I am hoping to add another lime to my drink real soon.
What do you think people say are some of your virtuous qualities?
What does virtuous mean? Are you calling me fat? Oh wait, that is voluptuous. Again, I would do ANYTHING for each and everyone of my friends.
What do you think people say are some of your vices?
I have a very addictive personality. Sometimes I do not know when to say when. I enjoy partying with friends, and I crave it at times. Besides that I am pretty down to earth about shit.
---
next q&a - Sandy