Hello. Dr. Odd here. Since I have head 2 previous rounds of questions for people I know that I have posted here over the years I thought it would be interesting to answer some of the questions again and compare the answers to our old answers to see how some of our lives are different.
---
We would like to introduce Carolyn.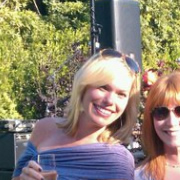 What kind of radio station do you listen to usually?
I don't listen to the radio. But if I do, usually NPR.
What is the 1st thing you want to do when you get home from work or when you wake up on the weekends?
On the weekends – eggs, bacon, toast and cups of coffee…
When I get home from work – I will keep that one to myself.
Who would you like to pattern yourself after?
Paul Newman
What is your favorite vacation spot?
Granada, Spain or Chianti, Italy
If you could get paid the same amount of $ at your current job and do anything, what would it be?
Actor
If you found $200 in the trash and you had to spend it that day, what would you do with it?
I'd take a friend out to a nice dinner with some good wine…

Got kids?
Nope.
What is your favorite town or state in the United States?
A whole state??? I like Chicago. I'm happy here.
What do you usually eat for dinner?
Varies. I eat healthy for the most part but am not afraid to embrace my inner fatty. This is why I go to the gym six days a week.
What is your favorite website?
http://www.fupenguin.com/ -- it used to be funnier. I also really enjoyed wasting hours reading the fake Rahm Emmanuel Twitter feed. That was good.

What do you do for $?
Executive Assistant, Actor, Director

Dogs or cats?
DOGS!!! I really want a Golden Retriever. Maybe someday when I grow up…

What is your salad dressing of choice?
Some olive oil concoction with lemon and stone ground mustard. I also like a good Goddess dressing once and a while…

What is your favorite fast food place? What do you order there?
I never eat fast food unless I am really hung-over. I'd say about twice a year this means a two cheeseburger meal from McDonalds with fries and a Coke.

Where do you see yourself in 10 years?
Living here in Chicago. Actor. Maybe some kiddies running around…I can also see myself traveling quite a bit.

What do you do exactly in your job?
I am a fancy secretary. It's really not worth explaining.

What kind of car do you have?
2007 Toyota Prius named Black Betty
If I had all the time and money, I would love to ...
Travel…

What do you like to do on the weekends or in your spare time?
Training for a ½ marathon. Drink lots of wine. Go see live music. Go out to dinner.
If you could name yourself, what name would you choose?
I'm cool with my name.
What is the last movie that you have seen that you enjoyed?
The Kids are Alright. Also, really loved Easy A.
What book are you reading now or have read recently?
I'm reading the Girl with the Dragon Tattoo series. I'm having a hard time getting into it, though…

What is your favorite magazine?
Saveur is pretty great.
What is your favorite TV show?
Arrested Development, Absolutely Fabulous

What is your favorite sport to watch?
NCAA Basketball
What is your favorite sports team?
Detroit Lions…I know.
What is your your favorite outdoor activity?
Picnics!

What is your favorite food?
Sushi, Pho, a really good Filet and Pizza all rank pretty high on the list.
What do your order on your pizza?
Black olives and red onions.

What is your favorite snack?
Hummus and veggies
Where do you live?
Lincoln Square.

In less than five words, describe yourself.
Tall. Blonde. Laughing. Foot-in-Mouth. Fun.

What is under your bed?
A rug and my drying rack for clothes

Name 3 things you like - EX: I like sports and punk music and webpages.
I like dirty rockstar boys, wine and music.

What is the highest education level you have completed?
Master of Fine Arts in Acting

If you can be a street performer, what celebrity would you like to impersonate?
Wha? Ahhahah. I've been told I look like the chick from Top Gun. I'll go with that.