Hello. Dr. Odd here. I met Amy at college when she started dating my friend Brian. Now they are married. She is extremely nice and friendly and just fun to be around. You can drop her a line here. Amy Gregozeski
---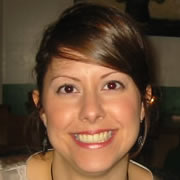 When were you born? Where?
September 30, 1975 in Chicago
What is the 1st thing you want to do when you get home from work or when you wake up on the weekends?

I give treats to my cats. They bother me until I feed them.
Who would you like to pattern yourself after?

The HR Director at my office. I admire her because she has a career and a family and believes it's okay for people to not spend all of their waking hours working, which is pretty rare these days.
What is your favorite vacation spot?

Anywhere warm with a beach
If you could get paid the same amount of $ at your current job and do anything, what would it be?

I'd be a hairdresser. I wanted to do this after high school but my parents wouldn't let me.
If you found $200 in the trash and you had to spend it that day, what would you do with it?

I'd put it towards my credit card bill. Just kidding! I'd probably ditch work and go to a day spa.
What kind of music you like the most and why?

I like all different kinds, but I'm seriously partial to big hair '80's bands.
Who have you been most influenced by and why?

My parents, who I'm very close with. They've always been there for me and have helped friends and other family members through bad times.
What makes you cry?

Any movie with Mandy Moore.
What is your favorite town or state in the United States?

I love Washington DC because of its history and there's tons to do there. If I ever had to relocate, that's where I'd hope I could go.
What do you usually eat for dinner?

Cereal or frozen pizza. But I got a Rachel Ray cook book for Christmas and I'm starting to make nice dinners every once in a while.
What is your favorite website?

metromix.com
If you had to hear 1 album for the rest of your life what would it be?

Achtung Baby by U2
What is your favorite movie?

Of all time? Poltergeist
Recent? Garden State
What do you do for $?

I'm an Admissions Manager at Lake Forest Graduate School of Management What do you find attractive in the opposite sex?

I love men who are into quality control. And if they have a Six Sigma certification, look out!
Dogs or cats?

Cats all the way
What is your favorite sports team?

Go Cubs!
You got any Tattoos?

No. I'm needlephobic.
Do you use styling products in your hair?

Yes. I use a thickening spray and styling lotion. I also use lots of hairspray, probably because I grew up on the south side.
What is your favorite cartoon character?

Bugs Bunny
Got any nicknames? What do they mean or how did you get them?
Not now, but when I was in grade school my nickname was "Polo" because my maiden name is Poledziewski
What is your salad dressing of choice?

Caesar
What is your favorite fast food place? What do you order there?
Baja Fresh. I like their baja chicken tacos.
What is your favorite booze beverage?
Wine
What is the one thing people say about you the most?

That I look like their friend from high school who was also short and had short dark hair. I get that all the time!
What do you think people say are some of your most virtuous qualities?

That I'm honest. I can't lie if my life depended on it.
What do you think people say are some of your vices?

That I'm a control freak, but I'm working on that ; )
What is your biggest pet peeve?

When people chew w/ their mouths open. Eww!
---
next q&a - Smack