San Francisco 49ers News
San Francisco 49ers news, rumors, scores, schedules, predictions, picks against the spread
San Francisco 49ers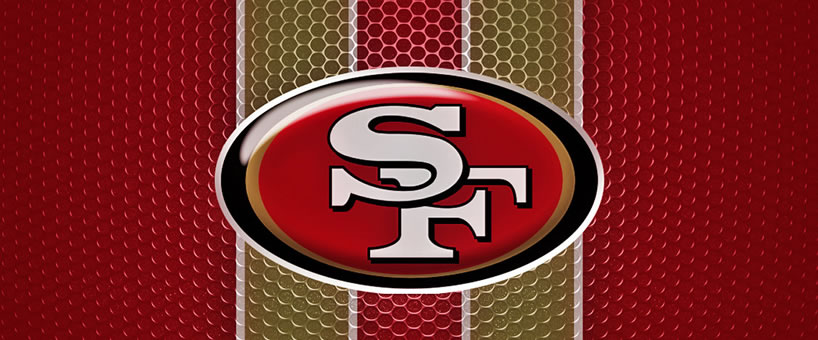 Do you want all of the 49ers headlines from popular 49ers websites all in one place? This is the place!



Site: San Francisco 49ers RSS Feed
?Starter? Dobbs grateful for second chance after last year?s arrest
49ers cut WR Martin; re-sign P Schmidt
Photos: San Francisco 49ers at training camp
A.J. Jenkins gets lots of looks in practice
Former 49ers GM John McVay remembers the golden years
Telling number for 11 WRs beyond Boldin: 30
Once-jittery James confident he?s 49ers? top punt returner
In wake of Culliver?s injury, 49ers contact CB Wright
Four sidelined WRs return to practice
Fangio on Asomugha: ?I think the jury is still out?
Catch This: 49ers sign WRs Collie, Hawkins
49ers host three try-out wide receivers
Is the Chris Culliver injury a harbinger of things to come?
Special-teams standout Spillman eager for expanded role
CB Culliver will miss season with ACL tear

Last Updated: March 22, 2018

Site: San Francisco 49ers : News
5 Notable Quotes from Richard Sherman's Press Conference
Why Eli Harold is a Potential X-factor for 49ers in 2018
49ers Continue to Climb in NFL's Offseason Power Rankings
49ers 2018 Offseason Transaction Tracker
49ers Sign G Jonathan Cooper
49ers Partner with Chelsea Foundation to Bring STEAM Education Clinic to London
49ers are 'Early Winners' in Free Agency According to Pro Football Focus
49ers Own Nine Picks in 2018 NFL Draft
Is Jerick McKinnon Kyle Shanahan's Prototype Running Back?
Why Kyle Shanahan Covets Centers and Therefore Coveted Weston Richburg
49ers Sign DL Jeremiah Attaochu
49ers Trade C Daniel Kilgore to the Dolphins
Jimmie Ward Receives a New Number After Giving No. 25 to Richard Sherman
Social Recap: NFL Reacts to 49ers Initial Free Agent Signings
49ers Agree to Terms with LB Brock Coyle

Last Updated: March 22, 2018


Site: San Francisco 49ers on Yahoo! Sports - News, Scores, Standings, Rumors, Fantasy Games
Richard Sherman defends deal, thinks being his own agent can set a new trend
Richard Sherman: Players 'concerned' Eric Reid, who protested during anthem, still unsigned
49ers sign Jonathan Cooper
Richard Sherman Is the Perfect Man to Defend His 49ers Contract?He Negotiated It
Jaguars dump Lewis after 12 seasons, also release Hurns
Red alert: Richard Sherman 'excited' to be a 49er
49ers sign former Cowboys G Cooper
How NFL star Richard Sherman negotiated his $39 million contract without an agent
Sherman defends his contract negotiations with 49ers

Last Updated: March 22, 2018

Site: FOX Sports Digital
Right-handed reliever Tyler Kinley hoping to land spot in Twins' pen
USC's Sam Darnold shines in (rainy) Pro Day
Maybin and Cooper double in Marlins loss to Cardinals
C.J. Cron homers for 2nd time during spring training
The award ceremony for all the recipients of the Carnival Scholarships
Keenan Evans trusted in Beard and Texas Tech now in Sweet 16
Arizona big man Deandre Ayton leaving early for NBA
NFL competition committee to recommend catch rule changes
Texas A&M, Michigan peaking at the right time
Kentucky takes on Kansas State in busted South Region
Last Updated: March 22, 2018


Site: 49ers source:espn - Google News
This RSS feed URL is deprecated
Why the 49ers believe Jerick 'Jet' McKinnon is ready to take off - ESPN (blog)
Jonathan Cooper to San Francisco 49ers, to vie for starting guard job - ESPN
Sherman defends deal he negotiated with 49ers - ESPN
How football character drives 49ers' approach to free agency - ESPN (blog)
Richard Sherman switching teams in NFC West, to join 49ers on three-year deal - ESPN
San Francisco 49ers' 2018 free agency: Jeremiah Attaochu could bolster pass rush - ESPN (blog)
Fit with 49ers gives Richard Sherman's fire chance to burn bright again - ESPN (blog)
WR Marquise Goodwin agrees to three-year extension with 49ers - ESPN
Richard Sherman: Pete Carroll's message to team became stale - ESPN
49ers should focus on pass-catchers, offensive line in free agency - ESPN (blog)
Last Updated: March 22, 2018


Warning: MagpieRSS: Failed to parse RSS files. (> required at line 170, column 33) in /home/ziola1048/drodd.com/mysportsscoop/rss/rss_fetch.inc on line 238

Warning: array_slice() expects parameter 1 to be array, null given in /home/ziola1048/drodd.com/mysportsscoop/49ers/index.php on line 302
Site:

Warning: Invalid argument supplied for foreach() in /home/ziola1048/drodd.com/mysportsscoop/49ers/index.php on line 305
Last Updated: March 22, 2018



Site: SFGate: All about the San Francisco 49ers : Niners Turf Blog
49ers-Cards: The opener
Good News, Bad News
Lions Game
Turf Blog gives way to Niner Insider
Blocking the Wrong Guy
Seahawks TD on First Drive
First Drive Sputters
Tonight's Preview
Love-and-Hate with Frank Gore
The Response to the Responses

Last Updated: March 22, 2018

Site: 49ers Webzone News
49ers meet extensively with USC linebacker Uchenna Nwosu
49ers Twitter Mailbag: Will they trade back in NFL draft?
49ers mock NFL draft roundup: Looking at 3 possible Round 1 targets
Health will help determine futures for 49ers' Ward, Armstead
John Lynch breaks down how the 49ers missed on Aqib Talib but landed Richard Sherman
Falcons sign former 49ers tight end Logan Paulsen
49ers want to improve offensive line after getting 'beat up' in 2017
Center Scott Quessenberry takes part in 49ers workout with UCLA teammate
Maiocco really wants you to know that players don't choose a team when entering Hall of Fame
Draft watch: 49ers work out UCLA tackle Kolton Miller, Florida State pass rusher
Terrell Owens selects former 49ers coach as his Hall of Fame presenter
Falcons GM: No timetable on Ryan contract
Terrell Owens picks former receivers coach as his presenter
John Lynch admits Kyle Shanahan's initial 'master plan' was to get Kirk Cousins
The biggest problems with Richard Sherman's self-representation
Peter Schrager: People forgot human element of Richard Sherman's contract when criticizing
John Lynch: 49ers shifting focus from free agency to the draft
John Lynch says Reuben Foster is working on improving himself
49ers to work out Florida State pass rusher Josh Sweat this week
49ers post-free-agency 7-round mock draft
John Lynch: Kyle Shanahan's master plan was to acquire Kirk Cousins; Jimmy Garoppolo had to prove himself
Sherman makes his concern over Reid's free-agency status loud and clear
Former Top Prospect Cooper Gets Chance With 49ers
From Eli to Jimmy G, 49ers' new center ready to protect Garoppolo
Cowherd: 49ers' Jimmy Garoppolo among quarterbacks who will dominate for the next decade
Richard Sherman shares love for Seahawks fans despite 'hate and hypocrisy'
Richard Sherman's self-belief made 49ers believers in him
49ers introduce Richard Sherman; ex-Seahawk vows to be healed in time for season
5 Notable Quotes from Richard Sherman's Press Conference
Richard Sherman responds to critics of his new 49ers deal

Last Updated: March 22, 2018



Site: Niners Nation - All Posts
49ers 2018 offseason roster tracker
Lynch confirms Shanahan wanted Cousins
Terrelle Pryor appears to be off the radar for 49ers
Jeff Zgonina to work out Florida State pass rusher Josh Sweat
John Lynch: Are we done [with free agency]? Perhaps.
TO explains why George Stewart will present him at Hall of Fame ceremony
NFL Draft TV coverage is going to be slightly ridiculous this year
Could the Cardinals be the worst team in the league in 2018?
Last Updated: March 22, 2018

Site: Scout.com > NinersDigest.com
NFL changes overtime, roster moves
NFL Draft grades
NFL Coaching Hot Seats Heading Into 2017
Worst Plays of Week 11
Worst NFL Plays from Week 7
Kaepernick shows up in Muhammad Ali shirt
2016 Expert Sleepers, Busts & Breakouts
10 greatest one-handed catches in NFL history
Top 10 RB Performances in the Super Bowl
49ers announce new coaching staff
Report: 49ers hire O'Neil as D-coordinator
Report: 49ers fire DC Mangini
Metrics say Kelly should slow down
Hyde had surgery on fractured foot
Q/A with 49ers new coach Chip Kelly
Watch: Chip Kelly's introductory presser
49ers deciding between Kelly and Shanahan?
Report: 49ers to interview Coughlin
Hue Jackson meets with 49ers for five hours
Not an Option for SF, Payton Stays w. Saints
Thumb injury complicates Kaepernick's future
York addresses the future of 49ers
Coaching rumer mill kicks off with Payton
49ers win in OT, finish 5-11
Staley weighs in on coordinator's status
Davis re-activated, Wilhoite to IR
Tomsula praises young 49ers' practice habits
Smith, Gabbert differ on Week 17's 'momentum'
49ers place Draughn on IR, add TE Hamm
Tomsula speaks before Rams game
Last Updated: March 22, 2018

Site: NinerFans.com ? A San Francisco 49ers Blog
Sakamoto: Why 49ers re-signing DE Tank Carradine should be top in-house priority
Sakamoto: Kyle Shanahan loves Jimmy Garopollo?s ability to withstand hits in pocket, keeping eyes downfield!
Sakamoto: 49ers vs. Cowboys inactives and captains
BEASTwriter: 49ers LB Reuben Foster sheds light on ankle injury: ?It?s good.?
BEASTwriter Preview: San Francisco 49ers vs. LA Rams
Saleh on his defense: ?The results are not what we want.?
49ers Locker Room: Brock Coyle splits first team reps with Ray-Ray Armstrong
BEASTwriter Review: 49ers CB K?Waun Williams receives top grade for cornerbacks, safeties play lights out
BEASTwriter Review: 49ers? NaVorro Bowman leads way, Ray-Ray Armstrong improves in pass coverage
BEASTwriter Review: 49ers Tank Carradine and Arik Armstead receive top grades against Seahawks, Buckner not far behind


Last Updated: March 22, 2018
San Francisco 49ers
Find San Francisco 49ers football schedules, scores, news & game day photos provided by The San Francisco Gate in San Francisco CA.
---
San Francisco 49ers Headlines
San Francisco 49ers News - San Francisco 49ers Headlines
Email
---