• Tuesday, June 09th, 2009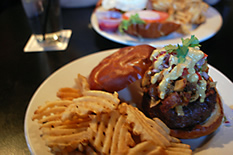 Kuma's Corner has the best burger in Chicago. I have been searching for Chicago's best burger for the 12 years that I have lived here and I found it a couple of years ago when I first tried Kuma's. Hands down - the best burger in Chicago or anywhere that I have been is at Kuma's Corner.
I first heard about Kuma's after a friend of mine told me he saw it on the TV show Check Please. A week later we went to check it out and there was a line out of door. We waited about an hour and a half for a table. But it was well worth it. That day I had the best burger I have ever had in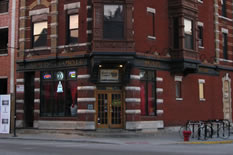 my 33 years on earth. Since that day I debate what makes their burgers so tasty. To me it boils down to two things, the pretzel roll and/or the toppings. The pretzel roll is something I have never had a burger on and it really makes this burger a tasty treat.
In addition, the choice of many tasty toppings really makes the burgers the best in Chicago. My favorite has to be the Metallica burger that is topped with buffalo sauce, bacon, and bleu cheese dressing. It is so good. It is the best burger I have ever had.
We usually order take out from Kumas so we don't have to wait for an hour and a half for a table but you have to go in to Kuma's at least once to hear the metal music and the nude sketches on the wall. I love Kumas Corner.