Congrats Sox!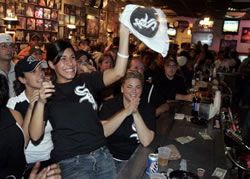 I am horribly jealous. I want a team that goes to the playoffs. I want a team that wins playoff games. I want a World Series.
Congratulations Sox. I am a Cubs fan but have been pulling for you all year. The Cubs are the only team left of the losers. We used to have both Sox teams to commiserate with us but no longer. Now we are all alone with the sadness of losing. I am here in Chicago watching this but I wonder how it must feel to have the team you pulled for be in the Series. I hope that Sox fans are taking time to enjoy this. I also hope that they are not taking this as another opportunity to rip on the Cubs. This is a Sox World Series and it is great. This is not "yay the Cubs suck." To all the Sox fans I know. Congrats guys. This is so cool. This is great. Let's celebrate. The Sox did it. You should be proud.
---
I can't tell you how happy I am for the White Sox and their fans. This is such a special achievement and all Chicagoans and Sox fans should be proud of this team.
I am a tiny tiny tiny bit upset because we did have tickets to game 6 of the ALCS but obviously that game won't happen - Oh well.
I want a Cubs World Series. I am wildly jealous. Boston won a series. The White Sox now have made it for first time since 1959. The Cubs better step up to the plate, open their pockets and bring a World Series to the North side. Learn from the Sox. Bring the right people in and get this done. Please?
A World Series is coming to Chicago. It is really unbelievable. Awesome. Congrats Sox!