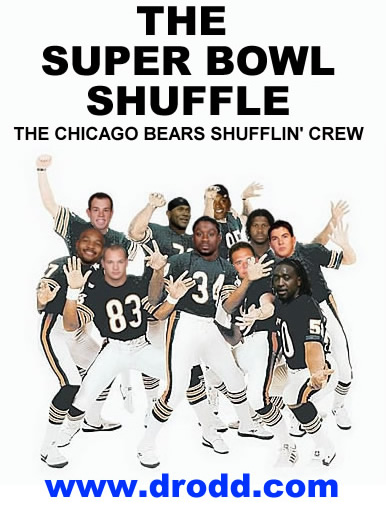 SUPER BOWL SHUFFLE '06-'07 - THE REMIX
We're the new Bears Shufflin' Crew
Shufflin' on down, doin' it for you.
Going 13-3 is how we get our kicks
Blowin' your mind like '85-'86
You know we're just struttin' for fun
Struttin' our stuff for everyone.
We're not here to start no trouble.
We're just here to do the Super Bowl Shuffle.
Brian Urlacher
Urlacher here, I'm the heart of the D
You wanna get to the endzone, gotta go through me
I'm a hit with the ladies, they love my style
But putting hits on Favre is what makes me smile
We've known all season that we're number 1
The new Monsters of the Midway, we're having some fun
We didn't come here to look for trouble
We just came to do the Super Bowl Shuffle
Rex Grossman
Well they call me Sexy Rexy and I'm young and tough
Had a couple rough games, but I know I got the stuff
I'm an Indiana boy, at home on a farm,
I like throwing it deep and showing off my arm
Staying cool under pressure, is the key
And if we get behind, we've always got our D
I've got my doubters, but watch me, girl
My Super Bowl Shuffle's gonna shock the world
Thomas Jones
Thomas Jones here, the man in the middle
Running the ball is like solving a riddle
First I find a gap, then I read the D
Once I get a step, ain't nobody catchin me
Me and Cedric B we make the run look pretty,
Bringing some offense to the Windy City
I didn't come, to burst your bubble,
I just came to do the Super Bowl Shuffle
Muhsin Muhammad
This is Muhsin Muhammad, I'm a heckuva guy
Throw a pass in the air and watch me fly
Fans call me Moose and scream my name
#1 receiver, I got crazy mad game
Like a speeding train, streaking down the field
I outrun the D like they're on training wheels
If you like my skills on the turf and grass
Just wait 'til you see me shakin' my a-
There's no one here that does it like me,
My Super Bowl Shuffle will set you free.
Robbie Gould
I'm Robbie Gould, pro bowlin for a reason
I went 26 of 26 to start the season
Breakin' Bears records and winning clutch games
They say I'm good as gold, and not just cause of my name
Most kickers are quiet, but I'm all smiles
Put the game on the line and I can kick for miles
I didn't come here, looking for trouble
I just came to do the Super Bowl Shuffle
Devin Hester
"Thank heaven for Devin", the papers say
Faster than a cheetah, is the Hester way
Give me open field and I'll show you a score
I'm bringing sexy to special teams like never before
When it's time to punt they're all full of fear
Making moves and making plays, you know I'm rookie of the year
That's why I got here, on the double
To take the Bears to do the Super Bowl Shuffle
Lance Briggs
I'm the tacklin machine, stopping fools on a dime
Big Lance Briggs, and I always get mine
Forcin fumbles is what I'm all about
And sacking QBs makes me scream and shout
When the ball is snapped, get outta my way
Cause you know Lance Briggs gonna make a play
I didn't come here to start no scuffle
I just wanna do the Super Bowl Shuffle
Tank Johnson
Get ready for the Tank, cause I'm here to stay
Mighta made some mistakes, but I'm ready to play
Forget about what you may have read
No more messin' around, I'm playin' ball instead
The best tackle in the biz, I'm big and tough
And when it comes to dancin, I got the stuff
I really don't wanna cause more trouble
I just wanna do the Super Bowl Shuffle
Bernard Berrian
Berrian here, I'm lean and tall
Throw it deep and I'll outrun 'em all
Me and Moose always cause a fuss,
Making defenses crazy tryin to stick with us
I'm sweet off the field and I'm smooth in the game
Winning's my goal, not fortune and fame
I didn't come here just for fun
I won't stop 'til we're number 1
Lovie Smith
Lovie here, and I'm a soul man
When it comes to winning, I got the plan
Ladies love Lovie, I always look fly
Now that Ditka's gone, I'm the guy
"Da Coach" and leader, of Papa Bear's boys
Come on Chicago , make some noise
You better start making your Super Bowl plans
'Cause we're goin' to Miami , and we're bringin'