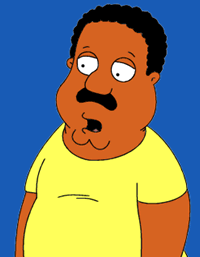 Content thanks to familyguyquotes.com
Cleveland Quotes
Cleaveland: Hey Peter, are you up for another snow cone?
Peter: No thanks, that yellow snow cone you gave me didn't taste like lemon, it tasted more like...oh you guys are asses!

Police Officer: Hey. That's Against the law. You're coming with me.
Peter: (singing to the tune of U Can't Touch this) Ah ah ah ah. Can't Touch Me/ Can't Touch me/ Ja ja ja ja just like the bad guy/ from Lethal Weapon 2/ I've got diplomatic Immunity/ so Hammer, you can't sue/ I can write graffiti even jay-walk in the streets/ I can Riot, loot, not give a hoot, and touch your sister's teat/ Can't touch me/ Can't touch me/
Adam West: What in God's name is he doing?
Peter: Can't touch me.
Cleveland: I believe that's the worm.
Peter: (still singing) Can't touch me/ STOP, Peter time/ I'm a big shot, there's no doubt/ light a fire then pee it out/ Don't like it, kiss my rump/ Just for a minute, let's all do the bump/ Can't touch me/ Yeah, do the Peter Griffin Bump/ Can't touch me/ I'm Presidential Peter/ Interns think I'm hot/ Don't care if you're handicapped, I'll still park in your spot/ I've been around the world/ from Hartford to Back Bay/ It's Peter, Go Peter, I'm so Peter, Yo Peter, Let's see Regis rap this way/ Can't touch me.

[watching Cricket on British TV]
Peter: What the hell is he talking about?
Englishman: Oh, it's Cricket. Marvelous game, really. You see, the bowler hurls the ball toward the batter who tries to play away a fine leg. He endeavors to score by dashing between the creases, provided the wicket keeper hasn't whipped his bails off, of course.
Peter: Anybody get that?
Cleveland: The only British idiom I know is that "fag" means "cigarette."
Peter: Well, someone tell this "cigarette" to shut up.

Peter Griffin: Guys, I went to Dr. Hartman yesterday and...he did things to my fanny! [cries]
Cleveland Brown: Peter, It's okay.
Peter Griffin: It's not okay! You don't know what it's like!
Cleveland Brown: You're wrong. I too have felt the cold finger of injustice on my insidey parts!.
Peter Griffin: He...he did it to you, too?
Glenn Quagmire: I have something to say. Dr. Hartman violated me as well. I only went in there for a physical/guinea pig removal, but I turned out to be the guinea pig-- for his sexual experimentation!
Joe Swanson: You guys are a bunch of queers. [leaves, then comes back crying] And so am I! Oh God, it was horrible! I scrubbed and I scrubbed, but DAMN IT, THEY DON'T MAKE WATER HOT ENOUGH!
Peter Griffin: My God, we've all been victims of Dr. Hartman's "prostate exam." Well, gentleman, the abuse stops here. I will not turn a brown eye to this. I am gonna sue that bastard and make him pay out the ass. No ifs, ands, or buts. I'm gonna be really anal about this. [pause] Sphincter.
Cleveland: I must say, I do feel a strange satisfaction watching the black ball topple all those self-righteous white pins.
Cleveland: I must say, I do feel a strange satisfation watchin' the black ball topple all those self-righteous white pins.
Joe: Can't blame 'em for being self-righteous, the black ball's in their neighborhood uninvited.
Cleveland: The black ball's done nothing wrong.
Joe: If the black ball's innocent it has nothing to fear.

Cleveland: Thanks for including my Civil Rights boardgame in the game night rotation guys.
Lois: Oh, we're always happy to play "Two Decades of Dignity." It makes us all feel a little less guilty.
(Peter rolls dice and moves his gamepiece.)
Peter (reading off a gamecard): For whistling at a white woman, go directly to jail. Aww, man doesn't anyone ever win at this game?
Cleveland: You don't win. You just do a little better each time.

(Peter looks around and sees the KKK following him and Cleveland.)
Peter: Holy crap! Do you know what this means?
Cleveland: I'm afraid so.
Peter: We're being chased by ghosts!

Cleveland: I hate Bewitched!
(flips couch while Stewie is on it)
Stewie: Hey...so that's a pretty reasonable reaction huh?

Cleveland: If you're this desperate about Chris's weight, why don't you just suck the fat out?
Peter: Look, if you can find a hole on the boy that you want to put your lips on, be my guest.

Cleveland: The only Brittish idiom I know is that 'fag' means cigarette.
Peter: Well someone tell this cigarette to shut up.

Cleveland: Public urination is just wrong. Except during the Million Man March when protestors burned down our porta-potties and I used my stream of justice to put out the hate.

Cleveland: Wow, Lois must have written the book on man pleasing. Too bad Loretta doesn't allow white literature in our household.

Cleveland: Oh, Peter, that tickles me in a way, that if Loretta tickled me in that way, I'd say, Oh yea ... that's nice ... that's the spot.

(Cleveland is about to smash Quagmire with a baseball bat. Then he looks around at, Meg, Chris, and Lois, who all have frightened faces. Then Darth Sidius appears.)
Darth Sidius: Good, good. Let the hate flow through you.
Lois (pushing him away): You're not helping.

Joe: What's wrong Peter?
Peter: (Sighs) It's nothing Joe, it's I don't know, it's just that all you guys have something to be proud of; Quagmire got a key to the city, Mort bowled a perfect game, you're always getting medals for catching crooks, hell even Cleveland used to be an accomplished auctioneer.
(Flashback)
Cleveland: (Talking fast) I have 125, do I hear 130? one-hundred thirty thousand for this authentic Comensia headress, I got 130, I got 130, Do I hear 135, One-Fort....(Gets hit in head with totem, then his voice slows down) One..Thirty..five goin' once.

Peter: So I found out I have a black ancestor.
Cleveland: Is that right? Well that's fantastic Peter.
Peter: Yeah but see the problem is that..I..I got no idea on how to be black. Except for not smiling when I get my picture taken.

Cleveland: You're the white version of a black guy that's not good with his money.

Lois: Aren't you upset that your wife cheated on you with your best friend?
Cleveland: Better with Quagmire than someone she could get a disease from.

Cleveland: He's tasting victory. I bet it tastes good, like salt-water taffy or a Chunky.

Cleveland: I can't get Cleveland, Jr. to sit still for anything. Sometimes i think he might have the epilepsy, but then I just go see what's on the TV.

Peter: Just a small town girl...livin' in a lonely world. She took a midnight train goin' anywhere.
Come on Cleveland!
Cleveland: No, no i couldn't. Well ok. Just a city boy... born and raise in south Detroit...
Man: Hey it's Journey!
People at funeral: Hey it's Journey! Let's go!
(Lady crying at the droped coffin looks up): Hey it's Journey (leaves)

Cleveland: Here's to Joe, who helped little Paul get a new liver and, barring a massive infection, a new lease on life.

Content thanks to familyguyquotes.com