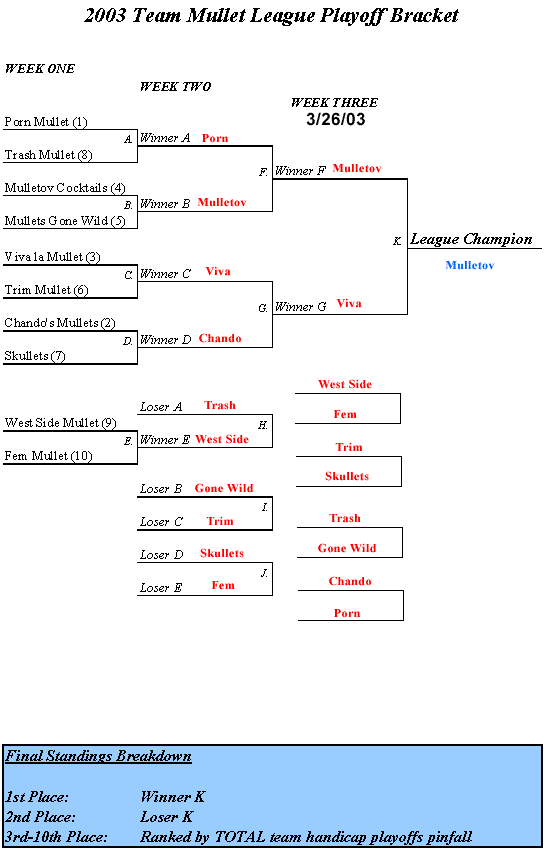 ---
2003 Team Mullet Playoff Rules and Guidelines
This yearís format is very similar to last yearís, for those of you who are Mullet veterans. For those of you new to our version of March Madness, itís really not too complicated. As you can all see from the posted bracket, there are some slight variations, which are due to having 10 teams instead of 8. Itís really quite impossible to pre-format a "loserís bracket" seeding structure that allows for overall rank based on who you play after week one.
That being said, hereís how it breaks down:
The league champion will be the team that wins its head-to-head match all three weeks (Winner of Game K)
The league runner-up will be the loser of the Championship Match (Game K)
For third-tenth place, we will use each teamís TOTAL handicap pin count for the three weeks of the playoffs. It is crucial to understand that past numbers are "thrown out the window." What matters now is what your team does for the next three weeks. Because weíre using handicap scores, itís VERY possible that a team seeded 10th could end up in third, for example.
In head-to-head matches, winners will need to get at least four (4) of the seven (7) points. In other words, your team MUST win two of the three games to march on.
Some other IMPORTANT considerations:
You MUST have at least two (2) regular team members present to bowl. If not, you will forfeit your match, and the score used in determining final standings will be the sum of your 4 regular SCRATCH averages multiplied by three.
Substitutes MUST have established an official MULLET LEAGUE handicap prior to the start of playoffs. Translation: If they havenít bowled at least one week up until this point, they are ineligible. NO EXCEPTIONS!
At least two (2) of your team members must be drinking heavily. All turkeys MUST be acknowledged by the downing of a shot purchased by the OPPOSING team. Failure to uphold either of these stipulations will result in match forfeiture.
You MUST check your work and personal problems at the door. This is going to be fun, dammit!
posted 3/6/03
---
To All:

As many of you are aware, we are fast approaching Mullet play-offs. In fact, there are only two weeks left in the regular season. This will result in everybody playing everybody else once. The last three weeks will be the play-offs, which will be similar to last year's format. Unfortunately, the format only allows for eight teams, which will be seeded according to their standings after week nine (#1 plays #8, #2 plays #7, #3 plays #6, #4 plays #5). Winners will play the following week, with the highest seeded team remaining taking on the lowest seed, etc. As of now, EVERY team has a chance to make the play-offs. Your destiny is in your own hands!

Please be assured that even if your team does not make the play-offs, you will still bowl. The first week, #9 will play #10. After that, these two teams will play against losers from the previous week, and so on. It is important to realize that all sorts of prizes/trophy's will be given out at the banquet - both individual & team, not only for the league winners. Bottom line, even if your team doesn't "make" the play-offs, you can still receive an award at Stanley's!

We hope that you have all found the league enjoyable thus far, and wish you the best of luck these next two critical weeks!

Melissa Guskiewicz
02/24/03 11:53 AM